Pay for Book Reviews
By
APOOO
• Aug 3rd, 2008 • Category:
Thinking Out Loud
•
Email This Post
•
Print This Post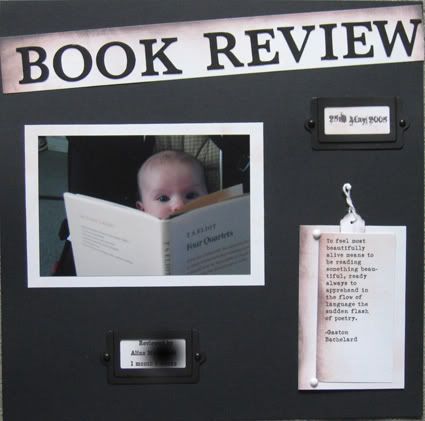 Book reviews have been a topic of interest late.  And pay for reviews is coming under scrutiny and attack.  Some book clubs, book review teams currently charge for reviews to help offset cost of doing business.  I know first hand that to create and maintain a Web site (of any type that has quality as a primary objective) is not an easy task on a low budget.  Some money is required to keep the site fresh, current and top-of-mind.  So, I understand why entities must find means to help offset those cost.  Also, I know that magazines and newspapers receive advertising dollars from the same publishing companies/authors that they review books for.  But, in my dealings, these media outlets keep advertising and publicity (which is what a review is because it's FREE) very separate; most times the advertising folks do not know what the reporters/writers are doing and vice-a-verse.  There's a reason for this madness.  These entities don't want to be accused of not being objective and accepting pay for book reviews.  I'm there; I don't believe authors should pay for reviews.  But, I do believe that authors should pay for advertising and promotional support.
First, APOOO does not charge for reviews; but we do charge for advertising and promotions (and this is NEW; for years we promoted (and we still continue to do so) authors (established and self-published/small press) for FREE).  The latter two  (advertising and promotions) are handled separately and independent of reviews.  As a matter of fact, so that there is no conflict, a reviewer never knows which authors purchase book placement/advertising (and given that APOOO reviewed over 500 books last year–authors who paid for advertising represented less than 10%–so let's not get it twisted and believe for one minute that authors and paid advertising are keeping the site or review team afloat) .  APOOO does not want a reviewer to feel that they must review a book favorably because advertising dollars are involved.  APOOO believes that  pay for reviews is unethical as each review should stand on its own merit and not based on how much money is involved.
APOOO doesn't impose our way of thinking on any other organization…but I will say that some entities might want to rethink their current procedures…as no one wants to be alleged to have or associated with charging folks for reviews.  In the long run, it does affect an organization's credibility and it makes some wonder just how objective that entity's reviews are.
Recently, I read a  Dear Author's blog that slammed two well-known literary organizations for allegedly charging for book reviews.  An established African-American organization has also come under the radar and 'us' (black authors) being who we are have exclaimed, "I ain't paying nobody to write a book review for me"! (Now what I found interesting is that many authors don't have a problem with their publishing house paying for reviews…hmmm).  Once again I understand why organizations charge fees for their services, but there seems to be concern regarding whether or not an organization should charge for reviews or even give the appearance of charging for reviews. Now, I need to digress for a minute.
However, in all fairness, many authors need to stop thinking that receiving a 'free' book is justification for a review team bending over backwards for you.  Because it isn't; most reviewers time spent reading a book is worth more than $10-$25.  But, most of us do it because we're avid readers and enjoy spreading the word about books we've read–especially a GOOD BOOK.   And, for authors who disparagingly say, 'that the only promotions their publisher does on their behalf is to send their books out to a few small, unknown book clubs'–wake up and spell the coffee and stop speaking ill of book clubs.  If not for book clubs, and our grassroots efforts as foot soldiers, many of you would not have deals with publishers today. (We remember when many of you were self-published and selling books out of the trunk of your car, at hair salons and church bazaars.)  Individually book clubs might not be worth hill or bean, but collectively book clubs are a force to be reckoned with.  Also, some  book clubs that have been around awhile, actually have strong followings and mailing lists with thousands of subscribers.  How many authors–new or otherwise–have mailing lists with significant mass?  And, while a few readers/book clubs might receive free books, under the guise of reviewing them (and never doing so), there's a solution to that also–DON'T SEND THEM ANYMORE BOOKS.  Shame on me the first time; shame on you the second time.  LOL. But, I digress.
In closing, advertising does make the world go run and without it many entities cannot stay in business, including your favorite literary Web sites (unless the founder has a second job or second income to cover the monthly expenses…lol).  Charging for advertising and promotions is an acceptable way of doing business and can and should be done without any conflict of interest.  As any company or group that has been around for awhile knows, providing Web content which gives visitors a reason to visit your site regularly and often is key to generating traffic (bolstering stats) so that authors will feel compelled to pay to  be featured on your site.   On the other hand, pay for reviews (or any semblance of this activity) is not…at least it seems this is what many authors have an issue with.
DISCUSSION QUESTIONS
What do you think of literary organizations charging for reviews?
Readers, does it matter whether or not an author pays for a review?  Why or Why Not?
Readers, would you be upset if you found out that one of your favorite authors paid for a review?
If you are an author, have you ever paid for a review?  Would you ever consider paying for a review?  Under what circumstances?
APOOO is a book club and an online author and reader community dedicated to advancing African American literature. Our mission is to expose readers of all ages to a good book in any genre; to support African American authors, books, literary events and bookclubs; to provide marketing resources, tools and tips to authors; and, to promote literacy within the African American community.
Email this author | All posts by APOOO